Apple Education - Call

1800 378 676
eStorm Australia was one of the first companies in Australia to enroll institutes onto DEP (Device Enrollment Program. With over 7 years experience as an Apple reseller and Apple Consultants Network member, we can help you maximise your Apple deployment.
After Digital Learning? Call Us Now 1800 378 676
ZERO TOUCH DEPLOYMENT, SHARED DEVICES AND THE NEW CLASSROOM APP
At eStorm our Apple engagement with your institution is focused on eight key elements to ensure a successful technology rich learning experience. These are:
Vision - Community - Student Learning - Environmental Design - Team - Measurement - Professional Learning - Financial Sustainability.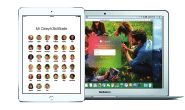 We can help you:
Articulate the 'why' for your learning vision and initiative.
Engage your community so stakeholders understand and support your vision.
Explore and understand new tools and materials to enhance student learning.
Develop your Environmental Design to support your learning. Incorporating infrastructure, management strategies, workflow solutions and physical environment.
Assemble a leadership team that will take ownership, plan and implement your learning initiative.
Establish ways to measure your progress against clear goals.
Model and support a culture of ongoing professional learning.
Identify expected costs and possible savings over time.
"Digital Learning From eStorm"
CONTACT THE FRIENDLY APPLE TEAM AT ESTORM AUSTRALIA TODAY ON 1800 ESTORM
The Team at eStorm can help you with implementing the below Apple features in your deployment:

Apple DEP
• Zero touch deployment
• Automated MDM enrollment
• Over the Air supervision (no more Apple configurator)
• Locked environment (student can't remove profile)
• Customised setup screens - streamline passcode, location settings etc
Mobile Device Management
• Control distribution of apps
• Restrict access to certain iOS apps i.e. iMessage
• Restrict access to websites
• Configure network settings
Shared Devices
• Have multiple students access the same device
• Maintain a "personal" student experience
• Students pick up where they left off
• Teacher assistance
- view what students are seeing
- remote control apps (launch specific apps when required)
- reset password in the classroom
Apple Classroom
• Assign Shared iPads to students
• Start, focus or pause student work
• See what your students see with Screen View
• Share student work on the classroom Apple TV
• Reset forgotten passwords right in the classroom
• Organise student devices using groups
Apple School Manager
• Central location for admin management
• Create Apple IDs
• Build and deliver iTunes U courses
• Locate students, staff, devices
• View MDM enrolment details
• Buy and distribute apps